Wyatt Miller with 2 yd TD run! Knights 42 - Tigers 22 with 8:17 left in the game.

Devin Hall 55 yd pass to Zander Matson for a Tigers TD. Wyatt Miller with the 2pt conversion. TIGERS 16 and Knights 22

Halftime score Knights lead the Tigers 22-8!

End of the 1st Tigers 8 and Knights 8!

Luke Miller to Chris Weinmann for a TD. Tigers lead 8-0 in the 1st qtr!

5th graders completing a science experiment with the question "Does air weigh anything?".
Mondays softball game at Plattsburg will start at 5pm. Varsity followed by JV.

Join us for some Lady Tiger 3v3 & Basketball Skill Sessions! Through the first few weeks of October, we are hosting 3 basketball sessions open to elementary girl athletes 2nd - 6th grades. This is a great way for our athletes to work on skills leading into basketball season and grow as a player of the game while having some fun! Please see the attached document for more information and specific dates. Forms are being sent home with students as well. Please contact Coach Reagan if you're interested or you have any questions at the email:
mckenzie.reagan@bcr4.org
https://docs.google.com/document/d/1mDa5Vz_pP-S1fS1LgVPXF7b0l-G_SLa63nsrzamNxY4/edit?usp=sharing

There will NOT be middle school softball practice after school today (Friday). There will be practice Monday from 3-4:30. MS Cheer will be released in time for MS football that evening.

Due to the power outage, phones are not working at DeKalb High School or Rushville Elementary.
Mark your calendars! On October 2, 2022 starting at 5 p.m. at the high school, we will have a Homecoming Kick-Off that will include a class corn hole tournament, the jersey auction, introduce Homecoming candidates, and will have drinks and cookies for sale. We are looking for a few parent volunteers to help keep score and keep the bracket updated. Please let Mrs. Faulkenberry or Rylie Johnson know if you can help out! Thanks!

Elementary Scholar Bowl Team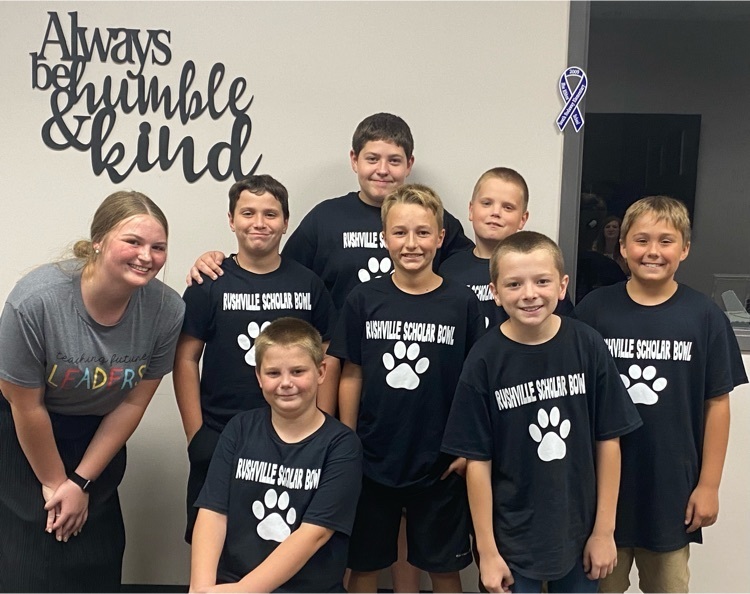 Due to the heat, the cross country meet for tomorrow has been moved to Thursday, September 22nd.
The Jr High Football game for tonight has been moved to tomorrow. Tuesday September 20th. Game will still be at 5pm at Stewartsville.
Varsity Softball tomorrow at home vs Winston. Game time is 5pm.
Don't forget to turn in your 2022 Homecoming T-Shirt orders by tomorrow, September 16, 2022!
Cross country meet added to Thursday September 15th. Meet will be at Platte Ridge Park. Girls start at 5, Boys start at 5:30.

Picture Day tomorrow, Wednesday September 14th, at Rushville Elementary.
Softball at Ravenwood tonight. Jr High starting at 4, followed by high school.
Football game Friday night is at Fairfax.